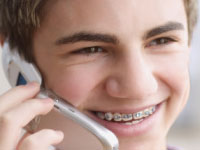 Modern orthodontics has really evolved in the past few years. Once thought of as just for kids, dental braces are now widely prescribed for adults, too. If you want a perfect smile, the time is right. Indianapolis braces dentist Dr. Bolon offers a wide variety of affordable treatment options. As an orthodontist, she has years of experience with standard and more complex dental care for children, teens and adults.
At Rebecca Bolon Orthodontic Care we know that straight teeth can really improve your self-esteem. In addition to traditional metal dental braces, we also often recommend less noticeable ceramic braces and other types of braces for adults.
Why wait another moment to start down the path to a great new smile? Call us at (317) 846-6107 or complete our simple online form to schedule a consultation. We're dedicated to providing you with affordable, top-quality dental care. If you've got questions about the cost of braces, just ask and our friendly staff will be happy to show you a range of options that will fit your budget.
Read more about orthodontic dentistry:
If you're looking for a highly-trained orthodontist for braces in Indianapolis you've come to the right place. Dr. Bolon offers orthodontic braces that Indianapolis residents have come to trust for the highest quality dental care.