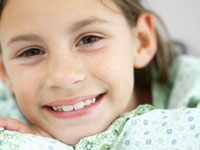 Healthy baby teeth are important. They are the placeholders for the permanent teeth that follow. Studies show that 50% of two-year olds have one or more decayed baby teeth. So visiting a pediatric dentist can ensure that those baby teeth are getting the attention they deserve.
How can you make that first visit to the pediatric dentist easier for your child?
Keep it low key. Going to the pediatric dentist should be treated as a routine event. Discuss it with your child no more than a day or two ahead of the visit. Your child will have less time to become anxious and hear horror stories from friends.
Stay upbeat. Say a pediatric dentist is a doctor who makes sure our teeth are okay. Don't make promises (such as, it won't hurt) you may not be able to keep.
Use your pediatric dentist's name. Hearing the pediatric dentist's and other staff members' names brings the visit to a more personal level.
Make the appointment early in the day so your child won't have all day to think about the visit. And, usually young children behave better in the morning.
A positive first visit can benefit your child's dental health for many years to come and can actually affect how your child views the pediatric dentist for the rest of his or her life. Do what you can to make the first impression positive.